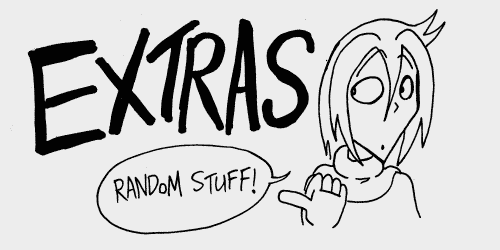 Extra Archives
Spoilers within! (i.e. don't read these first)
The Rest
Downloadable Comics
Now you can download my completed comics for your offline-viewing pleasure! The zip folders include html files for easy viewing with a web broswer, including a handy-dandy index. The cbz files are made for viewing with specialised comic book reader software, such as ComicRack.
Atavism
Download Atavism.zip
Download Atavism.cbz
Cerintha and the End of the World
Download CerinthaBookOne.zip
Download CerinthaBookOne.cbz
A list of cameos relating to
Cerintha
and myself. Graciously maintained by that Danish barbarian, Hogan of the
Webcomic Crossover and Cameo Archive!
Exactly what it says on the tin; this is my Deviantart account. Various crap contained within.
Cerintha vs Discordia Wallpaper
1024x768
1280x800
1280x1024
1440x900
1680x1050
Miscellaneous Doodles
Cerintha prototype 1
- One of my earliest experiments with Cerintha's character design (June 2006).
Cerintha prototype 2 - Another early design (September 2006). The comic's working title was Enfeebled Empire at this point. I never intended the bare midriff to be part of her final design, by the way.
Cerintha prototype 3 - Getting more recent now (December 2007). I thought this would be the final design, but I changed my mind.
Cerintha hair sketches 1 and 2 - Just me messing with Cerintha's hairdo (May 2008).
Cerintha Prototype 4 - ...and here's what more or less became her final design (May 2008). Only took me two years!
Hellebore prototype 1 - An early rendering of Hellebore (July 2006). Mostly done to see if what she'd look like with black hair.
Hellebore prototype 2 - An attempt to bang out Hellebore's final design (March 2008). I didn't like how her hair came out, thus leading me to...
Hellebore prototype 3 - This is how her hair's gonna be, more or less (May 2008).
Cerintha and Hellebore - ...uh, ignore the dinosaur (June 2008).
Discordia prototype Discordia's final design, more or less (January 2008). I had the general idea of Discordia's design worked out a long time ago; in fact, she even got a cameo in my previous comic.
Larkspur prototype - Larkspur's finalised design (March 2008).
Experiments - just various facial experiments, doodled on the back of the Atavism page I was drawing at the time. (October 2007).
Rejected page - The original version of this page, rejected for being too crap (October 2008).
Rejected page #2 - The original version of this page, rejected for being waaaaay too crap (April 2009).
Pallor and Fraus - Just some early design work I did on these two (February 2008).
Cerintha in her undies - Um....yeah (September 2009).
Cerintha in her undies again - I was practising her anatomy. Honest.(February 2010).
Hiatus image - Hopefully, I won't have to use this very often (June 2010).
Cerintha dancing badly - ...buh (December 2011).
Fillerfest doodles - Just some stuff I put together to fill the interim between Books I and II (various).
2013 Vote incentives - Just a bunch of old vote incentives I put together for Top Webcomics.
2014 Vote incentives - Same as above, but for a different year.
2015 Vote incentives - ...you get the idea.
2016 Vote incentives - ...blah de blah blah.